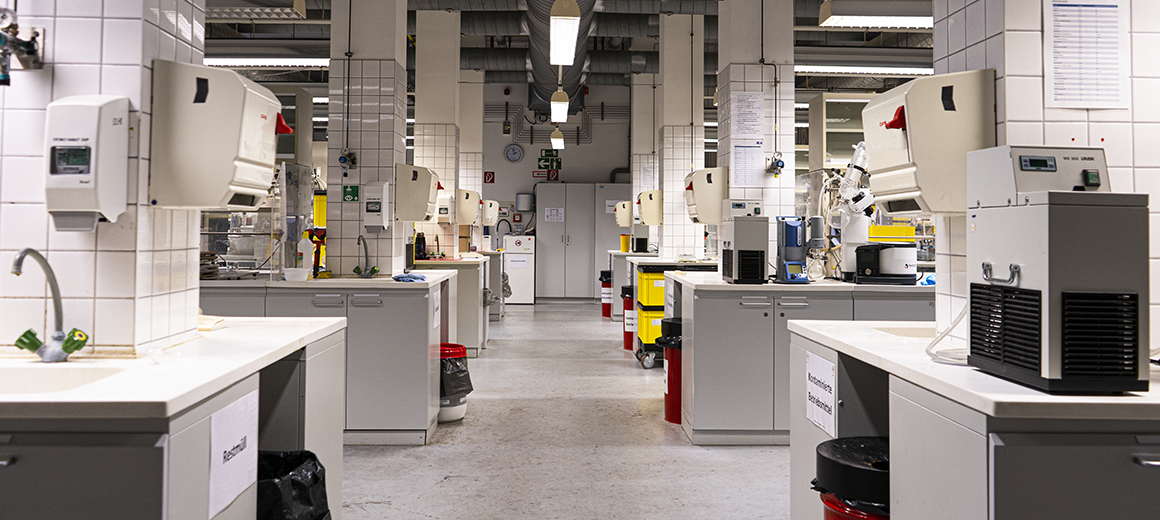 Tools and materials for your first Semester
Just starting your first semester and want to start purchasing the right equipment but have no idea what to buy? Don't worry, we've got you covered. Here is a run down of the complete basics for what you need to start your first semester.
Du fängst gerade dein erstes Semester an und willst dir die richtige Ausrüstung zulegen, hast aber keine Ahnung, was du kaufen sollst? Keine Sorge, wir haben die Einkaufsliste schon für dich vorbereitet. Hier findest du die komplette Grundausstattung, die du zum Start deines ersten Semesters brauchst.
Things you need:
non-programmable calculator – e.g. Casio Scientific Calculator ClassWiz (Amazon)
Waterproof Permanent Markers for lab-use (e.g. Amazon)
PC/Laptop (see the table below)
Internet connection
Notebooks, pencils, binders, rulers and so on
Printer + Scanner (optional)
Lab book with clear pages and numbers (optional)
Things I recommend from experience:
Materialien die du brauchen wirst:
nicht programmierbarer Taschenrechner – zB Casio Scientific Calculator ClassWiz (Amazon)
Wasserfeste, permanente Stifte fürs Labor (zB Amazon)
PC/Laptop (siehe Tabelle unten)
Internetverbindung
Notizbücher, Bleistifte, Ordner, Lineale, etc.
Drucker + Scanner (optional)
Laborbücher mit vorgefertigten Seitenzahlen (optional)

 
Was ich aus Erfahrung empfehle:
Let's start with what you need for the laboratory. During your first lab, you will receive a lab coat and eye protection equipment from the TU Berlin. You do not need to purchase these yourself (they have some for people with glasses too). Personally, as a person that wears glasses, I made the choice later on to purchase my own that were more comfortable, however this is completely optional.
Crucial to good lab work is having waterproof, permanent markers in the size of about 0.5 mm. This is used in the laboratory for marking the contents of your glassware. This is a must for any chemist, because you don't want to forget what you have in your beaker! Later on in the third semester, you will need to bring your own lab book. These are not required to have numbered pages, but once you start your Bachelor thesis and official chemistry work, you will need to have a proper lab book with paged numbers! This is a way for the scientific community to make sure you are not forging data.
For most exams, you will need a calculator. Programmable calculators are not allowed during exams, which is why I recommend getting the Casio Scientific Calculator. It fulfills all the requirements and has enough processing power for large formulas. I used to have a much older Casio calculator that I used in highschool and had trouble with it during some examinations because it had a maximum number of fractions I could input. With the calculator listed above, I have never had an issue! Of course you should check before buying a new one whether your old calculator is sufficient.
Just like in highschool, you will need to bring your own notebooks, pencils and pens. I personally prefer notebooks with blank white pages because I can draw clean, large graphs or diagrams without having any annoying intersecting lines – however this is a personal preference and checkered sheets are totally fine as well. You might also see advertisements online for "organic chemistry notebooks" which already have hexagons drawn in. I think every chemist tries these once and then never chooses them again because they are more annoying than useful, so stick with something simple.
I have seen people who use iPads or Microsoft Surfaces in class to make digitalized notes. This is of course allowed and probably pretty awesome. I have never tried this myself, but if you want to choose this route to save paper, feel free! But keep in mind, that chemistry means a lot of drawing in most courses and that its nearly impossible to make notes simply with a keyboard. And yes, you will definetely make a lot of notes.
Fangen wir damit an, was du für das Labor brauchst. Während deines ersten Laborpraktikums erhältst du einen Laborkittel und eine Schutzbrille (auch eine für Brillenträger geeignete) von der TU Berlin. Diese brauchst du nicht selbst zu kaufen. Als Brillenträger habe mich später dennoch dazu entschlossen, mir eine eigene Brille zu kaufen, die deutlich bequemer ist. Das ist aber völlig optional.
Entscheidend für eine gute Laborarbeit ist es, wasserfeste, permanente Marker in der Größe von etwa 0,5 mm zu haben. Diese werden im Labor verwendet, um deine Kolben zu beschriften. Das ist ein Muss für jede*n Chemiker*in! Spätestens im dritten Semester wirst du dein eigenes Laborbuch mitbringen müssen. Diese müssen zwar erstmal keine nummerierten Seiten haben, aber sobald du mit deiner Bachelorarbeit oder der offiziellen Laborarbeit beginnst, wirst du ein richtiges Laborbuch mit Seitenzahlen brauchen! Das ist vorgeschrieben für die Wissenschaft um den Plagiat oder Datenmanipulation zu verhinden.
Für die meisten Prüfungen wirst du einen Taschenrechner benötigen. Programmierbare Taschenrechner sind während der Prüfungen nicht erlaubt, weshalb ich dir empfehle, den Casio Scientific Calculator zu besorgen. Er erfüllt alle Anforderungen und hat genug Rechenleistung für größere Formeln. Ich hatte früher einen viel älteren Casio-Taschenrechner, den ich in meiner Abizeit verwendet habe und hatte bei einigen Prüfungen Probleme damit, weil er eine maximale Anzahl von Brüchen hatte, die ich eingeben konnte. Mit dem oben genannten Taschenrechner hatte ich noch nie ein Problem! Überprüfe vor dem Kauf nocheinmal ob dein Taschenrechner ggf. ausreichend ist und kaufe nicht blind neu.
Genau wie in deinem Abitur, musst du deine eigenen Notizbücher, Bleistifte und Stifte mitbringen. Ich persönlich bevorzuge Notizbücher mit leeren, weißen oder karierten Seiten, weil ich dann saubere, große Graphen oder Diagramme zeichnen kann. Wahrscheinlich hast du online auch Werbung für "organische Chemie Notizbücher" gesehen, die bereits Sechsecke eingezeichnet haben. Ich denke, jede*r Chemiker*in probiert die einmal aus und dann nie wieder da sie eher störend sind. Diese Notizbücher sind für die organische Chemie einfach nicht empfehlenswert.
Ich habe auch Studierende gesehen, die iPads oder Microsoft Surfaces im Unterricht benutzen, um digitalisierte Notizen zu machen. Das ist natürlich erlaubt und wahrscheinlich ziemlich praktisch. Ich habe das selbst noch nie ausprobiert, aber wenn du diesen Weg wählen willst, um Papier zu sparen, nur zu! Behalte nur im Kopf dass in der Chemie nach wie vor viel gezeichnet wird und Notizen per Tatsatur zu schreiben in den meisten Fächern kaum umsetzbar ist. Und ja, du wirst sehr viele Notizen machen müssen.
| Component | Minimum | Recommended |
| --- | --- | --- |
| | For 32-bit OS 1 GB or for 64-bit OS 2 GB | For 32-bit OS 1 GB or for 64-bit OS 2 GB |
| | | |
| Free Space required on Hard Drive | | |
| | | |
| | Windows 10 (32 or 64-bit), Mac OS X 10 or Mac OS X 11 | Windows 10 (32 or 64-bit), Mac OS X 10 or Mac OS X 11 |
| Microsoft Office (Standard, Professional, or Enterprise) | Microsoft Office 2016, Microsoft Office 2019 | |
Let's talk computers. You should definitely have one with internet connection if you want to be successful in your studies. The library does offer some spots with computers, but you will be pulling all-nighters writing lab reports, so it's definitely better to get your own. I have listed the minimum requirements above, but if you want a good workflow I recommend investing in something a little more kick-ass. As a chemist, you don't necessarily use CPU or GPU intensive programs, but you do want something that can handle multiple programs at once. Below I have listed all the programs that I have used in my studies. Many of these programs you will receive free from the TU Berlin, so no need to purchase them yourself!
I have also witnessed time and time again students using the mouse pad on their laptop to draw complex molecules or navigate large excel spreadsheets. I cannot fathom why students don't invest in a good wireless mouse! It saves a monumental amount of time and let's you work efficiently. Get one and thank me later!
Lass uns über deinen Rechner reden. Du solltest auf jeden Fall einen Internetanschluss haben, wenn du in deinem Studium erfolgreich sein willst. Die Bibliothek bietet zwar einige Plätze mit Computern an, aber da es wahrscheinlich öfter vorkommen wird, das du einen All-Nighter schiebst, kann ich das nicht als Lösung empfehlen. Ich habe oben die Mindestanforderungen aufgelistet, aber wenn du einen guten Arbeitsablauf haben willst, empfehle ich dir, in etwas Besseres zu investieren. Als Chemiker*in nutzt du nicht unbedingt CPU- oder GPU-intensive Programme, aber du willst etwas, das mehrere Programme gleichzeitig verarbeiten kann. Unten habe ich alle Programme aufgelistet, die ich in meinem Studium verwendet habe. Viele dieser Programme erhältst du kostenlos von der TU Berlin, du musst sie also nicht selbst kaufen!
Ich habe auch immer wieder erlebt, dass Studierende das Mauspad auf ihrem Laptop benutzen, um komplexe Moleküle zu zeichnen oder in großen Excel-Tabellen zu navigieren. Ich kann nicht verstehen, warum Studierende nicht in eine gute kabellose Maus investieren! Sie spart enorm viel Zeit und lässt dich effizient arbeiten. Hol dir eine und danke mir später!
Programs you will definitely use:
Microsoft Word
Microsoft Excel
Microsoft Powerpoint
QtiPlot
Chemdraw 20
TopSpin
Citavi or Mendeley
Programs or programming languages you might use:
Maple Software
Python
LaTeX
Aspen
Gaussview
Gaussian
QuadraWIN
Gimp
Origin
Microsoft OneNote
Blender 3D
Programme die du definitiv verwenden wirst:
Microsoft Word
Microsoft Excel
Microsoft Powerpoint
QtiPlot
Chemdraw 20
TopSpin
Citavi oder Mendeley
Programme und Programmiersprachen die du vielleicht verwenden wirst:
Maple Software
Python
LaTeX
Aspen
Gaussview
Gaussian
QuadraWIN
Gimp
Origin
Microsoft OneNote
Blender 3D
Personally, I work part time as a graphic designer, therefore I have a pretty powerful setup with two monitors. I have recommended to many of my friends to get two monitors. Once they started doing this, they never went back! It is very powerful to have your word document on one screen and an E-book or excel file on the other! You can often find monitors on eBay Kleinanzeigen for very cheap! I bought a full HD 27 inch screen for 35 Euros. I can only recommend this to everyone!
I also recommend to everyone that doesn't know how to type to start practicing that now. You will be regularly typing up large documents that are extremely time consuming. Learning how to type fast with all 10 fingers will significantly reduce the time required. You will also be regularly using Microsoft Excel and will not be taught how to use it during your first semester! Make sure to watch some YouTube videos and learn how to use it before you start the physics lab in the second semester!
Ich persönlich arbeite nebenbei als Grafikdesigner, daher habe ich ein ziemlich leistungsstarkes Setup mit zwei Monitoren. Ich habe vielen meiner Kommilitonen empfohlen, sich zwei Monitore zuzulegen. Es ist sehr effizienter, dein Word-Dokument auf einem Bildschirm zu haben und ein E-Book oder eine Excel-Datei auf dem anderen! Du kannst oft Monitore auf eBay Kleinanzeigen für sehr wenig Geld finden! Ich habe einen Full HD 27 Zoll Bildschirm für 35 Euro gekauft. Das kann ich nur jedem empfehlen!
Ich empfehle auch jedem, der noch nicht tippen kann, jetzt damit anzufangen, das zu üben. Du wirst regelmäßig große Dokumente abtippen, die extrem zeitaufwendig sind. Wenn du lernst, schnell mit allen 10 Fingern zu tippen, wird sich der Zeitaufwand erheblich reduzieren. Du wirst auch regelmäßig Microsoft Excel benutzen und es wird dir im ersten Semester nicht beigebracht! Schau dir unbedingt ein paar YouTube-Videos an und lerne, wie man es benutzt, bevor du im zweiten Semester mit dem Physiklabor beginnst!
You don't need to purchase books to be able to accomplish your studies. The university library has mostly what you need. Books that the library doesn't have are often traded around as E-books for students (more about this at your first-year information event!). However, looking back at my bachelor, there are a few books that I own now but wish I had then. This is of course a personal preference and if you are fine working with E-books, then do that! These books are not cheap. I have provided a small list below of books that I have used in the past.
Du brauchst dir keine Bücher zu kaufen, die Universitätsbibliothek hat das meiste, was du brauchst. Bücher, die die Bibliothek nicht hat, werden oft als E-Books für Studenten gehandelt (mehr dazu bei deiner Erstsemester-Informationsveranstaltung!). Wenn ich jedoch auf meinen Bachelor zurückblicke, gibt es ein paar Bücher, die ich jetzt besitze, mir aber wünschte, ich hätte sie damals gehabt. Das ist natürlich eine persönliche Vorliebe und wenn du mit E-Books gut zurechtkommst, dann mach das! Diese Bücher sind nicht billig! Unten steht eine Liste mit den Büchern die ich am meisten verwendet habe.
The books marked in bold are considered to be the top choices!
Die fett markierten Titeln werden von uns stark empfohlen!
Organic Chemistry // Organische chemie
Clayden, Greeves, Warren and Wothers – Organic Chemistry, ISBN: 9780198503460
Reinhard Brückner – Advanced Organic Chemistry, ISBN: 9780121381103
Vollhardt, Schore – Organische Chemie, ISBN: 978-0716743743
László Kürti, Barbara Czakó – Strategic Applications of Named Reactions in Organic Synthesis, ISBN: 9780124297852
Anorganic Chemistry // Anorganische chemie
Mortimer, Müller – Chemie: Das Basiswissen der Chemie, ISBN: 9783134843125 
Brown, Theodore L. – Chemie – Die zentrale Wissenschaft, ISBN: 9783827371911
Riedel, Janiak – Anorganische Chemie, ISBN: 9783110181685
Physical Chemistry // Physikalische Chemie
Atkins – Physical Chemistry, ISBN: 9780199697403
Hoffman – Physical Chemistry Essentials, ISBN: 9783319741673
Tipler – Physik: für Wissenschaftler und Ingenieure, ISBN: 9783827419453
Mertins, Gilbert – Prüfungstrainer Experimentalphysik, ISBN: 9783827417336
I hope this article will help you start off your first semester. Many of these are of course personal recommendations. You will have to see what works for you. If you have any questions feel free to contact us and we can help you out.
Ich hoffe, dass dieser Artikel dir den Start in dein erstes Semester erleichtern wird. Viele davon sind natürlich persönliche Empfehlungen. Du wirst sehen müssen, was für dich funktioniert. Wenn du Fragen hast, kannst du uns gerne kontaktieren und wir können dir helfen.